I've really been wanting to start writing again on topics that interest me or to keep things straight on how projects are going and what's happening in my world.

I think I'm at a point in online projects of what got me here won't get me to my next phase. So I wanted to take in all that's happened this year and then see where I want things to go for next year.

This one will probably be somewhat of a ramble, but hopefully I'll be able to tighten up my writing over the weeks.

Review

I've really be in a review mode. I know a lot of people do this anyway about this time of year, but I want to use it to see how far I've come with my desires to work online and create my own little empire.

Earlier this year, Josh Pigford tweeted out a Google Sheet of all the things he's done over the years.
When he shared that, I had to list out mine as well. Here's a screenshot of it.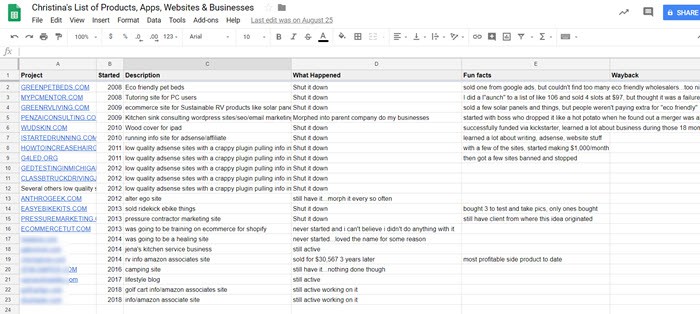 When you work online, it's easy to not see how much you've accomplished or tried, so documenting it all really helped me to see the things I've tried, the things I've failed at, and the things that have worked or are working now.
I also realized that I love researching things. To see what works and what doesn't. The problem is most of my experiments are in my head and I have no place to share them.

For 2019, I want that to change. I want to be able to share what I'm working on and to showcase what's working, and what's not.

I've started and stopped writing a few times, mostly because I thought I had to be more experienced in what I was doing before I could talk about it.

If I've learned anything this year, it's that there are so many people doing amazing things online. And the cool part is that they share the scary, icky moments along with the triumphs. So it's time I did too.

So what happened in 2018?

I Sold My First Site
I built up my first site to make over $1,000 a month and in February, I sold the site. I used Empire Flippers to list the site and I was getting ready for it to take a few weeks to sell.
In fact, I didn't think much would happen on the first day that I was recovering from minor surgery the day it sold.

I was pretty surprised that it sold in one day.
It was super gratifying to see something that I built up from scratch be worth something. An asset. That I created. It really changes your perspective on things and you want to do more of it.
I took a break from things for a month or two just to see what I wanted to do next. I also tested the idea of selling products on an ecommerce store, but after some time off I realized that I love creating affiliate sites.
I Started 3 New Sites
I love creating affiliate sites. You can research a topic and learn all about it and share with others. Then, you can get paid when they start buying things you suggest. It's super powerful feeling to see a sold item from your own website.

One site is starting to rank and bring in a couple hundred dollars. The traffic is really increasing steadily and looks great. I don't think it will ever become a huge, money making site. But I think I can get it to $500-1,000.

The other two are still too new to talk much about them. It's just the writing content and publishing phase that's in the grind and not much to show for, but they are starting to get some trickle of traffic.

The next couple of months should really be interesting for them.

I still have my day job, so much of this is on nights and weekends that I work on everything.
I Started Exercising
In August, I started walking. My goal is to get up to interval walk/jog and then to running. I love being out there and just getting out of the house. It's my time. I'm usually listening to a podcast, but sometimes I just go to be with my thoughts.
I usually listen to podcasts about affiliate marketing or side hustle. My favorites have been:
Authority Hacker
Niche Pursuits
Dom Wells
Income School (Youtube channel)
There are a few more, but those are probably my most consistent ones lately. I'll be honest, it's getting to a point when I really want more in depth information. To be honest, I might start creating that information myself.
I also notice a lot that there aren't too many women representing this arena and I want to change that. Representation matters.
I Started To Get Antsy
That might be why I'm writing. I feel like anyone who wants to get a little more cushion in their finances should do this and I tell anyone in my life who will listen. But most don't want to hear it or they don't believe me, so
I've decided to share online where it might help people who are looking for what I've been looking for. And hopefully some of you are my friends and family. But this way, I'm sharing what I learn and not bugging people too much 🙂
Moving forward.

I'll be honest, I'm not sure what direction I'll take this site for content and what I'll write about consistently, but I'd like to have it as my sounding board on affiliate site topics.
I want to build up my walking to start running more and run 2 5ks by the latter part of the year.
I also want to take more pictures this year. Selfies are fine, but different styles photos if I can. And I'd like to be in them.
I took this one today while walking
If you're working on something that you'd like to share, I'd love to hear about it in the comments.